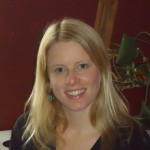 Jamie McConnell
Director of Programs
& Policy
By now, just about everyone has heard of Bisphenol-A or BPA. Commonly used in polycarbonate plastics and epoxy resins, the notorious chemical was ubiquitous in water bottles, baby bottles, children's sippy cups, the inside lining of canned foods, food containers, store receipts — the list goes on. BPA raised alarms among public health advocates because there is strong evidence BPA can contribute to breast cancer, hyperactivity in children, birth defects, and even diabetes and obesity.
Due to public pressure from advocacy groups like the Breast Cancer Fund, many canned food manufacturers stopped using BPA in linings.  In 2009 major manufacturers of baby bottles announced they would also cease to use plastics that contained the chemical (the FDA ended up banning BPA from baby bottles in 2012). Other manufacturers followed suit, and now you can find BPA-free claims on tons of products—from baby bottles, to water bottles, food containers, canned goods; pretty much any plastic consumer goods.
Sounds like a victory for public health, right? WRONG. Turns out the quickest and easiest way to eliminate BPA, was to replace it with an alternative chemical called Bisphenol-S or BPS. The problem? Recent studies have found BPS isn't any safer than BPA. In fact, BPS is very similar to BPA and may contribute to the same health impacts (cancer, obesity, birth defects, diabetes, etc.).  In short, this means those BPA-free claims on product labels are useless.
Do you want to throw up your hands in frustration? I don't blame you. You may wonder how companies can get away with removing one hazardous chemical and replacing it with another one that is just as hazardous. The problem is, there are no laws in the United States that require manufacturers of consumer goods to prove the safety of the ingredients they are using. This leads to what many advocates call "regrettable substitution".
But there are solutions. One way to ensure we don't have regrettable substitutions like the BPA/BPS fiasco is to pass a strong, federal law that requires ALL chemicals used in commerce to meet a strong safety standard. Such a law will give you peace of mind that the products you are buying in stores are required to meet a safety standard.
The good news is there is bipartisan support in Congress to do this, but in order to actually pass a meaningful law that will protect public health, YOU have get involved. To stay on-top of this issue and for ways to get involved join our action network.
And to help avoid BPA/BPS exposure from consumer products, follow these tips:
Ditch the canned foods and opt for fresh or frozen fruits and vegetables instead
Look for products packaged in glass or lined cardboard instead of cans
Use stainless steel or glass water bottles
Don't take paper receipts at ATMS, grocery stores, etc. unless you really need them.