Mission
Women's Voices for the Earth amplifies women's voices to eliminate the toxic chemicals that harm our health and communities.
Vision
WVE envisions a world where women lead to create a healthy environment without toxic chemicals in our workplaces, homes, and communities.
Pledge of Alliance
Women's Voices for the Earth pledges to intentionally and openly join with all women to reclaim the health of our bodies from harmful chemicals in products developed for our use. We explicitly invite women of every category, grouping or assignment and all people concerned for their reproductive health, regardless of gender identity, race, age, ethnicity, or status under the law, to fully participate in the advancement of our mission to amplify women's voices to eliminate the toxic chemicals that harm our health and communities.
In order to holistically address the unique health issues women face as a result of toxic chemical exposures, we seek to dismantle the social, political, and cultural norms, and industry practices, that discount the impacts of toxic products and the processes by which they are created. We recognize that being a responsible and equitable ally means acknowledging both subtle and overt forms of privilege and consciously addressing the myriad ways it shows up in our work.
We further pledge to act with intention to disrupt that paradigm. We will do this by leveraging our access and resources to magnify the voices and participation of groups who have traditionally been marginalized. Women's Voices builds relationships based on equitable partnership and acknowledges differing and valid forms of knowledge, skill, and ability. We will follow the practices for coalition building outlined in the Jemez Principles for Democratic Organizing. We will achieve our pledge by leveraging our mutual interest in justice and equity into opportunities for dialogue to improve our processes and practices.
###
Adopted by the Board of Directors on October 17, 2016.
Why a Women's Organization?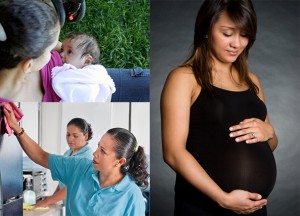 Women's Voices for the Earth (WVE) defines the environment as the places people live, work and play. It is estimated that between 80,000 and 85,000 chemicals are in use in the environment in the United States, yet only about 200 of these chemicals have been tested for safety. Of those chemicals that have been tested, most have been evaluated only for their acute impacts to adult males in industrial settings. The chemical exposure routes and health impacts on women – especially girls, women of color and women of reproductive age – are different and have historically been largely overlooked. Learn more.