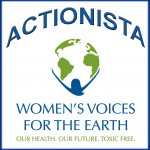 Each month, WVE profiles a woman who inspires us by her work to eliminate toxic chemicals in her personal life, community, school, or business. Many of these women are Actionistas, invaluable volunteers who spread the word about our campaigns through Facebook, Twitter, and blogs, and mobilize other women  as media spokeswoman, writing letters to the editor, or giving staff feedback on a new project.
Scroll down to see what these impressive Inspirational Women are up to, or click here to join our Actionista team and maybe, just maybe, you'll find yourself profiled here one of these days!
| | |
| --- | --- |
| | Jennifer Canvasser – Inspiring countless others by sharing her personal story in the film, The Human Experiment. Read more. |
| | |
| --- | --- |
| | Elva Aguilar – Raising her voice to protect fellow professional home cleaners and their clients from harmful chemicals hiding in cleaning products. Read more. |
| | |
| --- | --- |
| | Dr. Aly Cohen – Committed to educating the public and younger generations about the intimate connection between the chemicals we are exposed to in our environment and our overall well-being. Read more. |
| | |
| --- | --- |
| | Chang Hang – Co-owner of Traci's Nails in Oakland, CA, Chanh raises her voice towards improving the health and safety of the salon industry. Read more. |
| | |
| --- | --- |
| | Leah Segedie – Founder of Mamavation, the BookieBoo Network and ShiftCon Social Media Conference – a powerhouse leader in the environmental health and food movements. Read more. |
| | |
| --- | --- |
| | Jennifer Arce – From poisoned by formaldehyde in hair straighteners to passionate and powerful. Read more. |
| | |
| --- | --- |
| | Safiyyah Edley –  Speaking up for salon worker health and safety to lawmakers, agencies, and the media. Read more. |
| | |
| --- | --- |
| | Sandra Fluke – Standing up for women's health in the face of hatred–and running for the CA Senate. Read more. |
| | |
| --- | --- |
| | Janette Robinson Flint – Executive director of Black Women for Wellness and heroine in the reproductive justice and women's health movements. Read more. |
| | |
| --- | --- |
| | Sheila Hollender – Co-founder of Seventh Generation and Sustain Condoms, and a tireless women's health advocate! Read more. |
| | |
| --- | --- |
| | Congresswoman Carolyn Maloney – Introduced the Robin Danielson Act in Congress to require more research into toxic chemicals in feminine care products. Read more. |
| | |
| --- | --- |
| | Heather Von St. James – I was 36 and had given birth to my only child, Lily, just 3 ½ months prior to being diagnosed with mesothelioma cancer. Read more. |
| | |
| --- | --- |
| | Penelope Jagessar Chaffer – On being a woman of color in filmmaking, environmental health advocate, and mother. Read more. |
| | |
| --- | --- |
| | Sandra Hanns – iGreenWoman eMagazine envisions a world driven by women who unite in choosing products that are good for all of us. Read more. |
| | |
| --- | --- |
| | Maya K. von Rossum – the Delaware Riverkeeper: citizen activist superheroine. Read more. |
| | |
| --- | --- |
| | Constance Carter – I'm thankful to have the opportunity to share my personal story involving uterine fibroid tumors. Read more. |
| | |
| --- | --- |
| | Laura Bricklin – As a physician, I hope to be able to address the most basic issues affecting the health of our society; primarily, the environment in which we live in and the products that we interact with daily. Read more. |
Caitlin Copple – Missoula's first openly LGBT city council member, drawing national attention from Victory Fund, Human Rights Campaign, and Huffington Post. Read more.
Sherrell Dorsey – Creator of OrganicBeautyVixen.com, a movement with the intent to inspire, educate and encourage black women around the world to change their beauty, health and wellness routines to protect not only their long-term health but also their eco-fierceness. Read more.
Jacqueline Cerone – It is my love for babies, my urge to help mothers, and my knowledge of toxicants in our environment that led to the creation of 21Bundles, Inc. Read more.
Eneshal Miller – In the African-American community that I grew up in, seeing someone who looks like me on an ad or cover in the beauty industry was not an everyday thing. Read more.
Jessica Welborn – In 2005, I participated in a body burden study. Of the 64 hazardous chemicals tested for, 27 toxins were detected in my body. Read more.
Britta Aragon – Britta is the founder of Cinco Vidas, entrepreneur behind CV Skinlabs, and author of When Cancer Hits, a WVE Book Selection. "My journey started when I was diagnosed with Hodgkin's disease at the age of 16." Read more.
Heather Collins – As I watched my daughter struggling to breathe in the hospital, hooked up to oxygen and an IV, I realized the only way to make a change was to be a part of the movement to remove toxic chemicals from our lives. Read more.
Qae-Dah Muhammad – Actionista – From speaking at the Chicago Green Festival to hosting green cleaning events & giving radio interviews, Qae-Dah is a rock star of an Actionista. Read more
Tameka Gillett – Actionista– I created Naturally Prevailing Essences to help people improve their health by focusing on the importance of being toxic-free in different aspects of their lives. Read more. 
Lori Alper  – I put together a petition asking Procter & Gamble (makers of Tide) to strip 1,4-dioxane, a cancer-causing chemical out of Tide Free & Gentle. Read more.
Genevieve Marsh –  I've been living with Type I diabetes for 26 years, and it is the reason I believe Women's Voices for the Earth does some of the most critical work in our world today. Read more.
Paula Mozen – "I am sorry, but you have breast cancer." I adjusted to my new realities and survived. And I decided to make a film that I wish I could have seen when my world broke apart. Read more.
Beth Schenk – Actionista -Beth is a nurse and Sustainability Coordinator at St. Patrick Hospital in Missoula. She's led efforts to help the hospital eliminate several harmful chemicals, including mercury and triclosan. Read more.
Dawn – I've been a stylist in New York for two years now, and last year was when my ordeal with formaldehyde poisoning began. Read more.
Michelle – I am a 42 year-old mother of two, wife, and stage IV non-Hodgkin's cancer survivor. In 2006, after a year of cancer treatments I was given the long awaited news that I was in remission. Read more.
Roya –

Actionista

– I've been in the hair salon business with my mother and sister for over twenty years. When my sister became pregnant, I focused on her ongoing respiratory problems and began researching the chemicals we use every day to color and beautify our clients' hair. Read more.
Esther – Actionista – I heard about WVE in my internet research about toxic chemicals in regular everyday household cleaners. This became of much interest to me since my son was diagnosed with acute asthma. Read more.
Anne Brock – I came across WVE as I was researching simple living topics for the website I produce called Flour Sack Mama. I was surprised to find myself in conversations about the tragedies of infertility and cancer.
 Read more.

Erica – Actionista – When I look around me I see young girls buying lotions, perfumes, and makeup. It frustrates me to know that many of these products meant to make women and girls look and feel beautiful are laced with chemicals linked to reproductive harm and cancers. Read more.
Kristi Marsh – Actionista – Three years ago I attended a simple girl's night out with a green cleaning theme; which became my a-ha moment in my quest to become an advocate for my own health. Read more.
Natalija Josimov – I'm so glad I had the opportunity to go to Washington D.C. for the Healthy Salon Week of Action to tell my story about how Brazilian Blowout has altered my life forever. Read more.
Audra Conklin – Actionista – Going through Canada on my way to Alaska, I looked up and read a billboard: "Did you know that almost 80% of cancer is preventable? Look at your environment." Have you ever had an AHA! moment so powerful it brought tears to your eyes?

Read more

.
Kay – In 2009, I was diagnosed with Stage 3C breast cancer. I underwent mammograms religiously every year, but the cancer wasn't detected until it had spread. Read more.
Penny Kane – Actionista – My name is Penny Kane and I am a proud momma bear to two beautiful daughters & two babies who are up in heaven. I never paid attention to chemicals until I decided to research why I had pregnancy complications. Read more.
Karen Nathan – Actionista – Karen is the founder and CEO of Olivine Consulting LLC, a sustainability consulting firm for businesses—she's been donating 1% of her profits to WVE since she stumbled across a story on our green cleaning parties in the New York Times in 2009. Read more.
Leigh Attaway Wilcox – Actionista – Leigh's son has Asperger's Syndrome. As any mother would, Leigh spent countless hours researching the disease. Leigh discovered that her son doesn't filter out toxins, including those found in cleaning products, as well as the majority of the population. Read more.